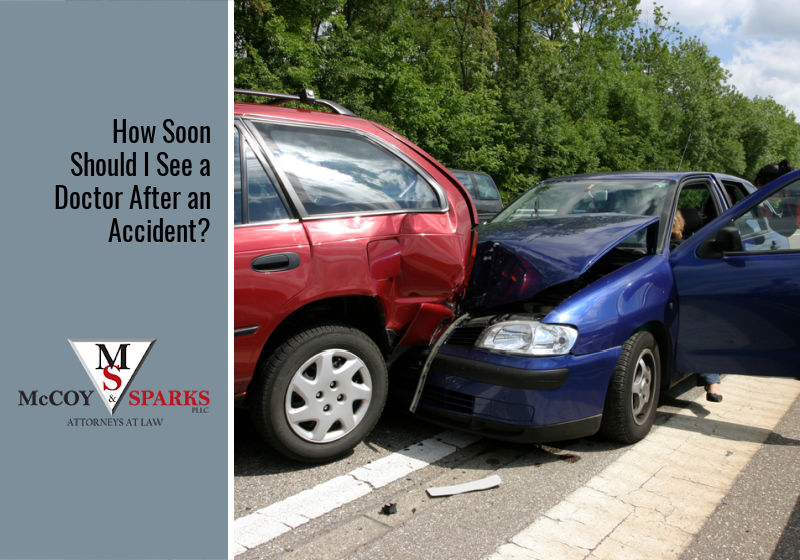 If you or a loved one has had the misfortune of being in an auto accident, you may wonder what you should do in terms of receiving medical treatment and how soon you should seek it.
Some injuries make themselves apparent immediately and require immediate attention (think broken bone or large gash); other injuries, however, like soft-tissue injuries or head trauma, may not be as easily spotted, especially without seeing a doctor.
Even low-speed crashes can result in serious conditions, which may not cause symptoms until 24 hours or more after the accident. Additionally, disorientation, stress, and adrenaline from the accident itself may distract you or hide the feeling or noticing pain. It may take some time after the accident for you to take note of symptoms.
Because of this, if there is any chance you're injured, it's important to see a medical professional as soon as possible after a motor vehicle accident.. If you have insurance, 100% of the medical expense should be covered by that policy's PIP provisions.
Common Car Accident Injuries
Here are some of the most common injuries sustained after a car accident:
Fractures
Scrapes, Cuts, and Abrasions
Contusions (Bruising)
Burns
Soft-Tissue Injuries
Head, Neck, and Back injuries
Even if you not sure whether your accident caused you any injury and don't want the hassle of getting checked out, it can be worth it to be seen.
What Happens if I Experience Pain Days Later?
No matter if you seek treatment immediately after the accident or not, be sure to keep track of any symptoms or soreness that appear in the days and weeks afterward. Serious injuries can result from even minor accidents, and oftentimes those symptoms take time to appear.
Occassionally, someone seeks treatment immediately after the accident and are given a clean bill of health, but several days later begin to experience pain. Not all injuries present themselves in the same ways, and some injuries may take time to show symptoms.
Whiplash and concussions can take time to manifest, as can internal bleeding (or seatbelt syndrome), head, back, and spinal conditions, all of which can be serious.
If you do begin to experience symptoms, seek medical treatment and alert them that you were recently in an accident. Give them the date of your accident and make sure they note it in your files that your visit is due to pain you are experiencing after being involved in a car accident. If it's not noted in the records, there is a greater risk that either the PIP provider or at-fault carrier will question the linkage between the wreck and injury.
Should you decide to later seek compensation for your injuries, having a paper trail of treatment will be important.
Common Delayed Symptoms from Accidents
Here are some of the most common symptoms to be on the lookout for that can appear between hours to several days or weeks after a car accident:
Headaches
Neck and shoulder pain and stiffness
Back pain
Swelling or abdominal pain
Trouble with concentration or personality/mood shifts
Changes in physical function and mobility; numbness or tingling
Flashbacks, nightmares, and anxiety issues
These delayed symptoms can be signs of serious injury or conditions that require medical treatment. Be sure to seek medical attention should you begin experiencing any of these symptoms after having been in an accident.
Steps to Take After an Accident
If you or a loved one has been involved in a car accident that resulted in injuries, you may be entitled to compensation. The financial, physical, and emotional damages from an accident can be life-altering.
After an accident, keep careful track of medical bills, diagnoses, and hospital or doctor visits, along with all other bills associated with your accident. Whether you sought medical treatment several days after the accident or were treated by an emergency vehicle at the scene, your injury and any pain it caused should not be your financial responsibility if the accident was due to someone else's negligence.
Trust McCoy & Sparks—Premier Personal Injury Attorneys
Recognized as Central Kentucky's best law firm for over a decade and counting, McCoy & Sparks works to help people in trouble, representing thousands of clients in Central Kentucky with a focus on providing premium service and delivering superior results.
Regardless of the type of case, our goal is to develop a strategy that best serves your personal needs, then draws upon our courtroom skills to help you reach the best possible result. We start by getting to know you. Next, we will explain all your options, giving you the pros and cons of each choice so that you will be empowered to make informed decisions.
You owe us nothing unless we recover compensation for you. Make the right call to (844) 4KY-WINS for a risk-free consultation with one of our attorneys today.
Video Transcript
The sooner, the better. Again, it's paid for, it's a good idea. You should go to the ER and get checked out. You don't have to take an ambulance. They will ask you, "Do you need an ambulance?" That's up to you. If your car is drivable and you know that you're Not overwhelmed with anger or emotions, then you can drive yourself, you can call a family member, you can take the ambulance. But I would go on and go straight to the hospital, get checked out, that's the number one thing. If it's a significant accident, meaning that it causes damage to your car, and it's not just a little tiny bump that wouldn't cause any damage, then why not get checked out? Make sure you're okay.