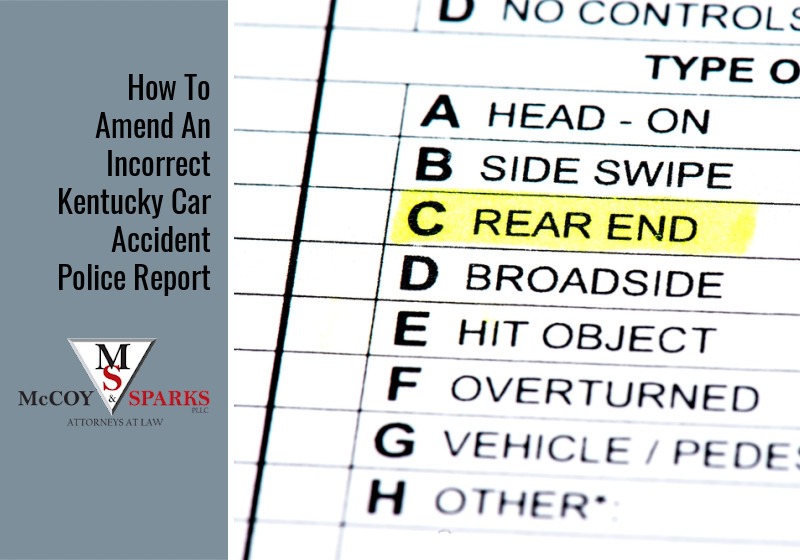 Police reports can play an essential role in personal injury cases, so it's important to ensure that one gets filed. In the state of Kentucky, drivers are required to call the police even if only a minor accident occurs. Once you contact them, they are supposed to come to the scene and gather evidence to make a report. This usually includes:
Names and contact information for all parties involved, including your driver's license
Insurance information
The time, date, and location the accident occurred
A description of the accident scene and potentially a diagram
Witness names and statements for anyone else who saw what happened
Make, model, and year of the vehicles involved
What kind of damage the cars sustained and their positions after the accident
Notes about other property damage
Preliminary findings on what happened (driver negligence, bad weather, road conditions, etc.)
Citations or tickets issued to the driver(s)
It's important to note that while all of this information could help determine the outcome of your case, a police report does not determine what really happened. If your case goes to trial, it actually has little to no value. Only evidence and statements may be presented if the case goes to court, the jury will decide how the accident happened. In these cases, it's crucial for injured victims to work with an experienced attorney. Proving fault can be enough of a challenge on its own, let alone if there is wrong information on a police report. Though the jury has the final say, that manner in which a lawyer gathers and presents the evidence will go a long way in determining who wins and who loses.
What Should I Do if My Police Report Contains Incorrect Information?
There are likely two circumstances in which you would dispute a police report:
To correct factual errors: If you know that something on the report is objectively incorrect, you should be able to have the information changed by providing proof. For example, if your name, information about your car, where the accident happened, or your license or insurance information is wrong, then you can give the police department whatever documents are necessary to correct that information. Some departments are more helpful than others and whether they will amend the report varies from city to city.
To change something you disagree with: If the officer made a claim you don't like, such as how you violated the law, or if a witness gave a statement you don't agree with, it will not be easy to have that information changed. It is much less likely that the officer or anyone else in the department will do anything to change the report. However, you may provide any additional statements that you would like, and they can be attached to the report. The important thing is to try. Take the evidence to the officer that wrote the report. Even if they refuse to reevaluate their stance, they will have to answer for that at trial or in a deposition. If you do nothing, the defense lawyer will likely ask why you never took the new information to the officer.
Working With An Attorney to Prove Fault
If you disagree with a police report and cannot get the department to amend it, you will need to build a strong case to convince the jury in court. This will require working with an experienced attorney that understands how to provide the necessary evidence and information to counteract what is contained in the report.
My firm has challenged numerous conclusions that were written in police reports. In one case, the investigating officer concluded that our client had crossed the center line and caused a major collision. We hired the best reconstructionist team in the area, and presented that evidence (that our client never crossed the line) against the officer during the lawsuit. The officer backed off his position and agreed that his findings were simply speculation and that our conclusion was equally plausible. The case settled shortly thereafter.
Your attorney will work with you to guide you through the entire process to ensure all possible measures are taken to win your case. Often, this can mean avoiding speaking to the police again after the accident occurs, as your lawyer will want to ensure that nothing you say can be used against you in court. You should always speak with your attorney before talking to anyone else about the case, including the police, insurance companies, and anyone else involved.
Trust McCoy & Sparks—Premier Personal Injury Attorneys in Central Kentucky
Recognized as one of Central Kentucky's best law firms for over a decade and counting, McCoy & Sparks works to help people in trouble, representing thousands of clients in Central Kentucky with a focus on providing premium service and delivering superior results.
Regardless of the type of case, our goal is to develop a strategy that best serves your personal needs, then draw upon our courtroom skills to help you reach the best possible result. We start by getting to know you. Next, we will explain all of your options, giving you the pros and cons of each choice so that you will be empowered to make informed decisions.
You owe us nothing unless we recover compensation for you. Make the right call to (844) 4KY-WINS for a risk-free consultation with one of our attorneys today.