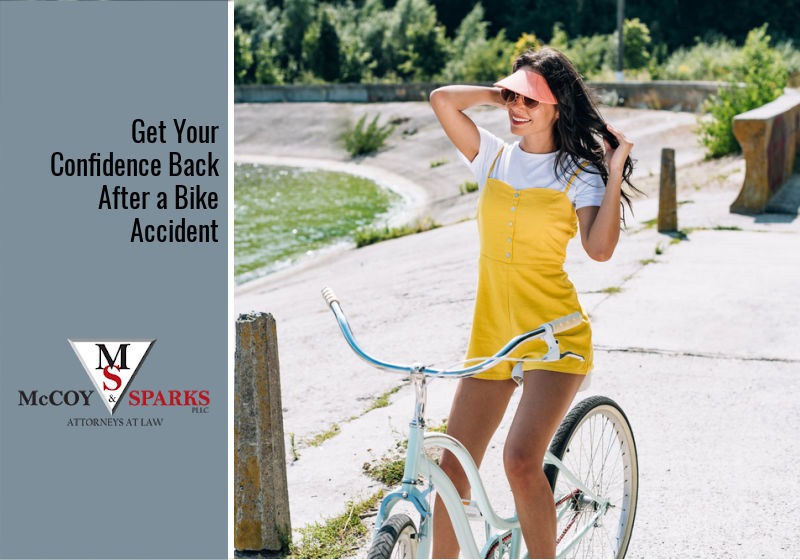 Summary: Riding your bicycle after a bike-car accident isn't always "as easy as riding a bike." Physical injuries can be quite serious but so can the emotional toll it has on you. How can you feel confident in riding your bike again? You can take steps like starting small, riding a stationary bike, riding with a friend or seeing a therapist to regain your trust in your riding abilities. McCoy & Sparks can advocate for your needs after a bike-car accident so you can take care of your physical and emotional wellbeing.
We've all used the phrase "as easy as riding a bike" to refer to how easy it is to get back into a hobby or practice, but what if you're actually referring to riding a bike after a traumatic accident?
It might not feel "as easy as riding a bike" the first few times you get on your bike after an accident, and you may need to work for quite a while to regain your confidence on your bicycle. Bicycle-vehicle accidents in particular can be especially dangerous and can take away a lot of the self-assuredness you had on your bike before your accident.
What can you do to feel like yourself on your bike again?
The Perils of Bicycle-Vehicle Accidents
According to the National Highway Traffic Safety Administration, there were 857 cyclists killed in accidents involving motor vehicles in 2018. In 2015, there were a reported 45,000 bike accidents across the nation. These accidents are incredibly dangerous for the cyclist, as they lack the protections that a car offers.
What can happen if you're injured in a bicycle accident? The most common injuries happen to a cyclist's arms and legs, followed by their head, abdomen, thorax and neck. Your injuries can be more superficial (though not without pain!) like road rash but also can include strains, fractures, dislocations and major injuries to the head, spine and neck.
Bike accidents and the injuries that accompany them can be life altering. If you're a cycling enthusiast or you rely on your bike as a mode of transportation, it can feel essential to your physical and mental healing to regain your confidence on a bike.
Hop on a Stationary Trainer
Sometimes just hopping on a stationary bike and getting your body reacclimated to cycling can make a world of difference. If something hurts, it's easier to stop immediately instead of trying to limp home, and you're less likely to push yourself than you might on the road or training in a group.
On a stationary trainer, you don't have as many distractions. You can take stock of how your body is feeling and how you are doing emotionally before you try to head out on the road for the first time. It's a small step in the right direction!
Ride With People You Trust
Bicycling Magazine talks at length about the importance of riding with people you trust when you are getting your confidence back after a bike injury. Why is this?
Being alone on your bike also leaves you alone with your thoughts—and fears. Being with a trusted companion distracts you from this fear and allows you to focus on cycling, not your anxiety or trauma.
Keep in mind, it might be a good idea to skip large group rides for a while. New friends can have less predictable riding styles or might not know about the history of your accident. A good friend in your cycling community who understands your injuries and your accident will be there to support you as you work through your recovery and reacquaint yourself with your bike.
Start Small
Another fantastic tip is to start small. Previously, you may have been able to ride for hours and hours at a time, but you have to be gentle with yourself and understand that you may not be up to that challenge just yet physically or emotionally. Ride for 10 minutes, then take stock of how your body is feeling after your injury and how you are feeling emotionally. You can continue in 10-minute spurts, but this also gives you permission to end your ride without feeling guilty if you're not feeling great.
Remember, after a bike accident (especially one involving a vehicle), 10 minutes on your bike is quite an accomplishment!
Talk to an Understanding Professional
Whether you're an elite athlete recovering from a bike accident-related injury or biking was a long-beloved hobby of yours before your accident, it can help to talk to a mental health professional to help you heal from the trauma of your accident. Especially if cycling is your passion, it can take time and work to regain your confidence and feel like yourself again.
When you are injured, there's an emotional response that happens as you take in medical information about your injury and you also search for ways to cope. This can result in experiencing a veritable tornado of emotions:
Sadness
Isolation
Irritation
Lack of motivation
Anger
Frustration
You also may experience difficulty sleeping or disruptions to your sleep patterns, changes in appetite, and disengagement. How you respond to a bike accident and the injuries that follow might look very different from someone else, and the best thing to do is to talk to a sports psychologist or therapist to help process your injuries and your trauma.
Get the Help of a Qualified Personal Injury Attorney
Recovery isn't something you should have to do alone. In the same way that you need medical attention and a great doctor after a serious bicycle-car accident, you need expert emotional care to get your confidence back.
But medical care, physical therapy, and sessions with a sports psychologist or therapist cost time and money. You need a personal injury attorney to advocate for all of your needs following a traumatic bike accident.
At McCoy & Sparks, we work hard to ensure our clients have access to all of the help they need after an injury. We know that healing isn't just about the gravity of your physical scars but your emotional scars too. We'll listen to your needs and represent your interests after a serious injury so you can move forward with your life and get back on your bike.
Don't wait to get the help you need after a bike accident. Get help from our team of qualified, compassionate personal injury attorneys today. Call McCoy & Sparks at (844) 4KY-WINS, or contact us for a free case consultation today.
Trust McCoy & Sparks—Premier Personal Injury Attorneys in Nelson County
Recognized as one of Central Kentucky's best law firm for over a decade and counting, McCoy & Sparks works to help people in trouble, representing thousands of clients in Central Kentucky with a focus on providing premium service and delivering superior results.
Regardless of the type of case, our goal is to develop a strategy that best serves your personal needs, then draws upon our courtroom skills to help you reach the best possible result. We start by getting to know you. Next, we will explain all your options, giving you the pros and cons of each choice so that you will be empowered to make informed decisions.
You owe us nothing unless we recover compensation for you. Make the right call to (844) 4KY-WINS for a risk-free consultation with one of our attorneys today.