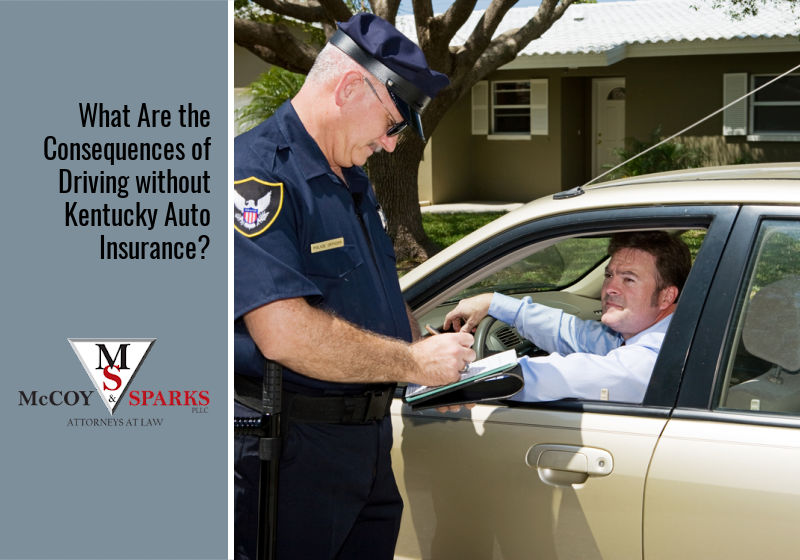 The majority of Kentuckians are aware that drivers are legally obligated to obtain Kentucky auto insurance. Driving without insurance can lead to serious legal and financial consequences that cannot be understated, and obtaining Kentucky auto insurance is especially important to protect yourself in the event that you're involved in a vehicular collision.
Consequences of No Car Insurance in Kentucky
If you drive without car insurance, the state of Kentucky will most likely learn of your uninsured status.
In the event that you had car insurance but it lapsed or you canceled the policy, your insurance company will notify the Kentucky Transportation Cabinet. Kentucky's Division of Motor Vehicle Licensing will then look into your insurance coverage if your vehicle's registration is still active, and they'll send you an uninsured notice.
Additionally, a police officer will ask for your proof of insurance if you're ever stopped.
Driving a vehicle without insurance comes with serious consequences. For a first offense, you may receive a penalty between $500 to $1,000 and your vehicle's registration will be suspended for one year unless you eventually provide proof of insurance. You can even face up to 90 days in jail.
If you're caught driving without insurance again, you can face up to 180 days in jail and a penalty between $1,000 and $2,500. The state will also suspend your registration for one to two years and will even revoke your license for a year. You'll then need to retake your driving test if you don't have a driver's license for over a year.
In addition to the aforementioned consequences, you'll also face a $40 fee to reinstate your vehicle's registration.
Minimum Requirements for Auto Insurance in Kentucky
Kentucky is a choice "no-fault" state, meaning that drivers have the choice to obtain no-fault Kentucky car insurance. Those who have no-fault insurance will use their own insurance carrier's personal injury protection (PIP) insurance to cover medical expenses even if the other driver was at fault for the car accident. One disadvantage of no-fault insurance is that injured drivers cannot sue a liable party for pain and suffering. Fortunately, Kentucky drivers can opt out of no-fault insurance and obtain traditional insurance.
If you choose to obtain no-fault insurance, you're required to have a minimum of $10,000 in PIP coverage. Regardless of whether you have no-fault or traditional insurance, you're legally required to have minimum liability coverage. The minimum requirements include:
$10,000 of coverage for property damage
$25,000 of coverage for injuries per person
$50,000 of coverage for all injuries
Getting Into a Car Accident With No Insurance
When a person is liable for a car accident, they or their insurance company is responsible for paying for the other driver's vehicle damages. Additionally, they may be liable for personal injuries.
Liable drivers are still responsible for damages even if they don't have auto insurance, but they would need to pay for vehicle damages out of pocket. Additionally, if the other driver is injured and their insurance won't cover medical expenses and other injury-related damages, they can attempt to recover compensation from the uninsured at-fault driver via lawsuit.
Unfortunately, many uninsured drivers don't have the economic means to pay for substantial medical bills or vehicle damages, meaning that a victim may struggle to recover compensation even if they win their case.
To protect yourself from uninsured drivers, consider obtaining uninsured driver's insurance. Uninsured driver's insurance reimburses you for some medical expenses and vehicle damages in the event that you're in an accident with an uninsured driver.
What Should I Do After a Wreck in Kentucky?
If you're involved in a vehicular accident, you need to take action to protect yourself and collect evidence that may support your accident claim and/or lawsuit. Take the following steps after your wreck:
Call 911 or the police: You need to call 911 immediately if anyone in the accident suffers an injury. When emergency services aren't necessary, you should contact the police and wait for them to arrive. You can use the police's accident report to support your claim or lawsuit.
Take pictures and videos: While at the scene, take pictures and videos of the wreck's aftermath.
Talk to eyewitnesses: If anyone else saw the accident occur, write down their account and collect their name and contact information.
Seek medical attention: Although you may not think your injuries are serious, you should still receive medical attention as soon as possible. Otherwise, you'll have a harder time recovering compensation if the injuries are more serious than you realize.
Contact a car accident attorney: You'll have a far greater likelihood of recovering the compensation you deserve when you hire an experienced car accident lawyer. They will represent you and help you gather evidence for your claim or lawsuit.
Contact a Central Kentucky Car Accident Legal Team
For dependable legal support, contact the Central Kentucky car accident attorneys at McCoy & Sparks Attorneys at Law. Depending on the circumstances of your case, we may be able to help you recover compensation for vehicle damages, medical bills, lost wages, pain and suffering, and more.
Call our Bardstown office today at 844-459-9467, or you can click here for a free case consultation.