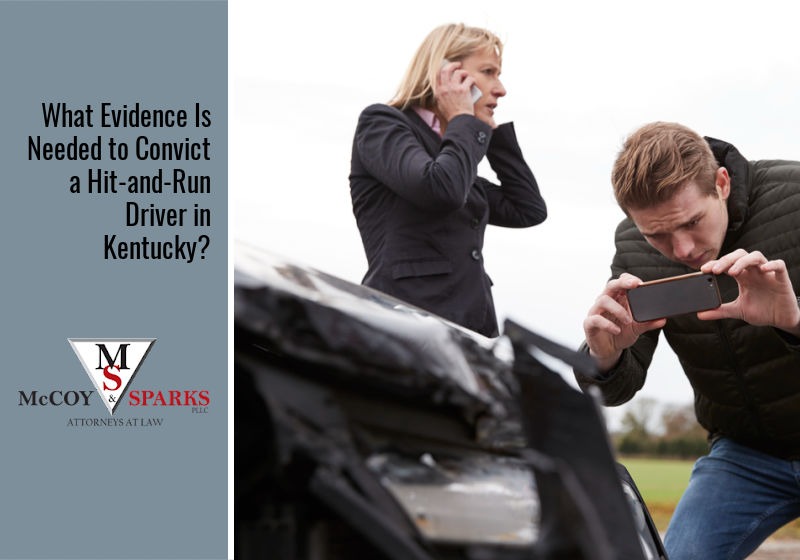 Hit-and-run accidents leave victims struggling to recover physically, financially, and emotionally. While focusing on your recovery, it can be a challenge to also find your way through your new legal reality of insurance claims, court filings, investigations, and court proceedings.
Fortunately, a personal injury lawyer can help you navigate this complicated new reality and support you as you get the compensation you need.
One of the responsibilities of a personal injury attorney is to help identify evidence that will convict the driver who caused your injuries.
How Does Kentucky Define a Hit-and-Run Accident?
If a person is involved in an accident that causes death or an injury, they have to stay at the scene until they have been instructed to leave by authorities. Leaving the scene of such an accident is a felony.
The exception to this rule is that you may leave the scene of the accident if you have a valid, legitimate reason to fear for your safety if you stay.
A hit-and-run happens when:
The driver fails to stop at all
The driver leaves the scene after stopping, but fails to provide accurate, identifying information
The driver stops but refuses to render lawfully-required assistance and proceeds to leave the scene of the accident
What Is a Choice No-Fault State?
Kentucky is a choice no-fault state.
"No-fault" means that all drivers in Kentucky must carry Personal Injury Protection (PIP) insurance as part of their auto coverage. When you are involved in an accident, your first step after seeking medical attention is to file a personal injury claim directly with your own insurer.
"Choice" means that drivers have the freedom to opt out of this system by filing a request with their insurer.
Even though your insurance will cover your expenses as outlined in your specific policy, you may still take civil action against a driver directly responsible for the accident.
How Is a Hit-and-Run Treated by Insurance Companies?
In general, a hit-and-run is treated like an accident with an uninsured driver. This is especially helpful if the other driver has not yet been identified.
Once the driver has been identified, they will face criminal charges for their felonious action. However, you can also sue them in civil court for additional damages.
Types of Expenses After a Hit-and-Run Collision
Following a Kentucky hit-and-run accident, you may be faced with many unplanned and expensive costs.
These costs include:
Damage to your vehicle
Medical bills
Lost salary or wages due to missed work
Chiropractic bills
Costs for physical therapy, occupational therapy, and mental health therapy
If your costs exceed the coverage from your PIP auto insurance plan, you can sue the other driver for additional compensation.
Collecting Evidence for a Hit-and-Run Conviction
After being injured in a hit-and-run, you can work with your lawyer to collect evidence that will hold the responsible driver accountable for their negligent and criminal actions.
Evidence that can be used to convict a hit-and-run driver includes:
Statements from eyewitnesses
Statements from victims
Photos from the scene (taken by victims, witnesses, and the police)
Security video footage
Some vehicles may also have dash cam footage or accessible data to prove what happened.
Collecting evidence can be time-consuming and overwhelming, especially for someone dealing with the painful and emotional aftermath of being injured in a hit-and-run accident. That's why you need to reach out to a personal injury lawyer right away.
The sooner your Kentucky car accident attorney can get started, the sooner you can get the compensation you deserve!
A car accident attorney can offer expert advice, compassionate support, and legal guidance throughout the entire process.
McCoy & Sparks–Helping Kentucky's Accident Victims Get Compensation
At McCoy & Sparks, we have spent years helping drivers get the compensation they deserve from all kinds of car accidents. That certainly includes hit-and-run accidents!
Learn more about our success stories from our case results.
Contact McCoy & Sparks Attorneys at Law by calling 1-844-4KY-WINS or by filling out our online form. We look forward to providing you with a free consultation and case review. Our offices are located at 212 W. Stephen Foster Ave. in Bardstown, Kentucky.