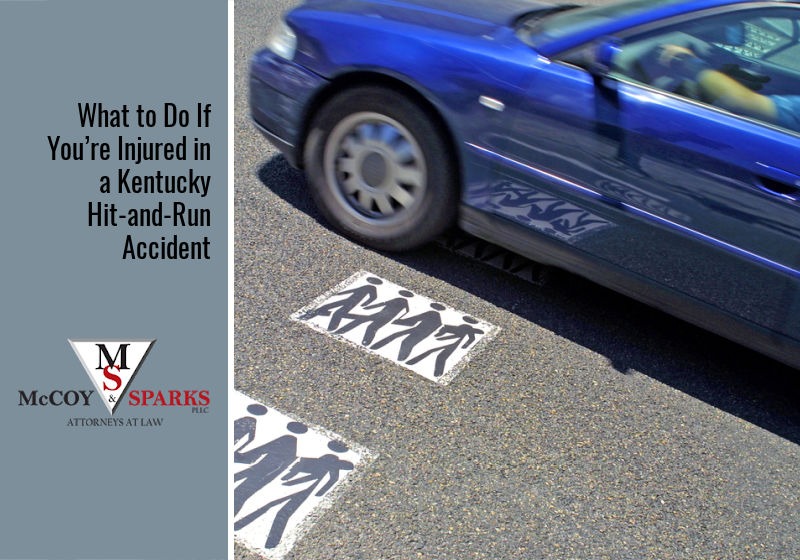 Summary: Hit-and-run accidents in Kentucky happen tens of thousands of times annually. These accidents require specific communication with your insurance company to manage Kentucky's no-fault insurance laws. McCoy & Sparks can help you navigate this process to get the help you need after a hit-and run injury.
A hit-and-run accident is incredibly frustrating, especially so if you've been injured and the other person flees the scene without taking responsibility for their actions. You're left to deal with the consequences while they sometimes get off scot free.
Any auto accident can be confusing and traumatizing, but that's no excuse for a driver to leave the scene of an accident. Here's what you need to know about your hit-and-run injuries in the state of Kentucky.
What Is a Hit and Run?
A hit-and-run incident is a car accident where one party leaves the scene without stopping to identify themselves or providing aid for anyone who might need assistance, intending to evade their responsibilities as a driver.
This is not limited to accidents solely involving cars. A hit-and-run can involve the following scenarios:
An accident where two or more cars are involved in a collision
An accident involving a car and a pedestrian
An accident involving a car and a fixed object
This does not include instances where one party has to leave the scene to access emergency assistance (like going to a nearby hilltop to get a cell phone signal). As long as you return immediately to the accident scene, this does not count as a hit and run.
Hit-and-run incidents are not limited to a highway or a public road. This also can include parking-lot collisions. Even hitting an unoccupied car in a parking lot without leaving a note with your contact information on the windshield can be treated as a hit and run.
Hit-and-Run Accidents in Kentucky
Hit-and-run accidents are a serious law violation in Kentucky. In 2015, Kentucky was the site of 12,830 hit-and-run collisions.
Of these collisions, there were 24 fatal collisions and 1,014 injury collisions. Twenty-four people were killed in Kentucky hit-and-run accidents in 2015, and 1,390 people were injured. There were also an additional 11,792 property damage collisions.
These hit-and-run accidents affected pedestrians, bicyclists and vehicle passengers:
Pedestrians accounted for nine fatalities and 156 injured persons.
Cyclists accounted for 31 injured persons.
Vehicle passengers and others accounted for 14 fatalities and 1,203 injured persons.
What Should You Do After You've Been Injured in a Hit and Run?
Hit-and-run accidents can be frustrating because you're left to deal with the damage when the other party is nowhere in sight. What should you do if you've been injured during a hit and run?
Don't follow the car even if you can; stay at the scene of the crime. You could miss out on eyewitness reports, and the police may question who is truly at fault.
Do your best to record the license plate number and the make and model of the other vehicle. Accidents can be scary, but the calmer you are, the more information you're likely to retain.

If you saw the damage to the other vehicle or where they were headed, you should record this information too.

Call 911 to seek medical attention for your injuries.
File a police report for the incident.
Ask witnesses if they can supply information (if you physically are able to do so).
Seek medical attention right away.
Contact a personal injury attorney to determine the next best steps. This can include things like contacting your insurance provider and filing an insurance claim while still protecting your interests.
Navigating Kentucky's No-Fault Insurance Laws: Get the Help You Need
Kentucky follows a no-fault car insurance model, which means that injured drivers and passengers need to turn to their own personal injury protection (PIP) to get the necessary compensation for any medical bills, lost income and out-of-pocket losses following your hit-and-run accident. Luckily, this means that you do not have to prove the other party is at fault or even know their name to get the help you need from your insurance company.
You may need to file a claim with your insurance company, or you may have to provide evidence of the hit and run. Your insurance company may try to settle your claim for less than it's worth. An experienced personal injury attorney can help you navigate these steps.
McCoy & Sparks are well versed in personal injury claims, no-fault laws and hit-and-run accidents in the state of Kentucky. While we are experts in tackling this kind of claim, we also pride ourselves on the care we provide for our clients.
We are only interested in protecting your needs following a hit-and-run injury. We won't treat your case like just another claim. Your life has been affected by this accident, and we're here to help you move forward.
If you've been injured in a hit-and-run accident, we want to advocate for you. Contact us today, or call (844) 4KY-WINS to learn more about what we can do for you.
Trust McCoy & Sparks—Premier Personal Injury Attorneys in Central Kentucky
Recognized as one of Central Kentucky's best law firms for over a decade and counting, McCoy & Sparks works to help people in trouble, representing thousands of clients in Central Kentucky with a focus on providing premium service and delivering superior results.
Regardless of the type of case, our goal is to develop a strategy that best serves your personal needs, then draw upon our courtroom skills to help you reach the best possible result. We start by getting to know you. Next, we will explain all your options, giving you the pros and cons of each choice so that you will be empowered to make informed decisions.
You owe us nothing unless we recover compensation for you. Make the right call to (844) 4KY-WINS for a risk-free consultation with one of our attorneys today.