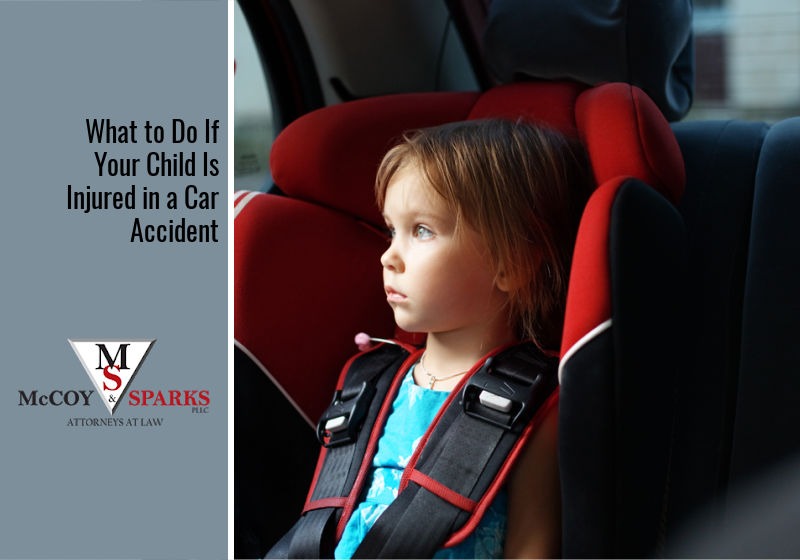 Summary: Just like an adult, your child is entitled to damages if they have been injured in a car accident. Because of their size, children can be gravely injured in motor vehicle crashes and need to be properly restrained to protect them. Airbags can be particularly dangerous for small children. Get your child the medical attention they need, and then call McCoy & Sparks to get them the compensation they deserve.
In 2017, nearly 116,000 children were injured in motor vehicle crashes. Since 1975, the rate of motor-vehicle deaths per million children under the age of 13 has decreased by 79% percent. Additionally, the rate at which children have been killed as pedestrians and bicyclists has decreased by 92 and 95 percent respectively.
It's also important to note that like adults, children who are unrestrained occupants of a car involved in a crash are more likely to be fatally injured. Restraint use is much lower among fatally injured occupants, and placing children in the appropriate car seats and booster seats can reduce the risk of these kinds of injuries dramatically—by as much as 80 percent.
While this improvement is definitely encouraging news, children are still injured in car accidents every day. So what are your options if your child has been injured?
Personal Injury Cases Involving Children
If your child is hurt in a car crash and you suspect it has to do with the negligence of another person (the driver of the vehicle the child was riding in, or the driver of another vehicle, for example), they generally have the right to compensation for the same spectrum of damages that adults are entitled to, including:
Pain and suffering.
Permanent injury.
Emotional distress.
Disability.
Medical bills and expenses.
A minor cannot negotiate the settlement of their personal injury claim, which means that a parent or guardian (and their personal injury attorney) will be the one to negotiate on behalf of the child.
In Kentucky, any settlement of a claim on behalf of a child must be approved by the proper Court. If the amount the child receives is greater than $10,000, the Court must approve a guardian or conservator over the money. The guardian or conservator must then be bonded, or otherwise agree to hold the money in a "blocked account" which can only be accessed with an Order by the Court that appointed the guardian/conservator. An experienced attorney can make a difference in getting this done properly and timely.
Common Injuries Children Incur in Auto Accidents
Children can suffer the same common injuries from car accidents as adults, including the following:
Traumatic brain injury
Concussion
Whiplash
Contusions
Skull base fracture
Broken bones and fractures
Thoracic injuries
Permanent disability
Psychological difficulties
Also, airbags pose a significant risk to children and infants who are restrained improperly in the front seat or don't meet height and weight requirements. Their deployment can result in skull fractures, brain injuries, facial burns, a broken nose and ocular injuries as well as neck and spinal injuries.
There are specific guidelines as to when children can move to the front seat or what kind of car seat or booster seat they should use (and which direction it should face) while sitting in the back seat. Why? Airbags deploy at a speed of 150 to 200 miles per hour and can injure children in particular since they have immature neck muscles and are shorter in stature, with their faces closer to the airbag.
A Post-Accident Checklist
Like with any accident, there are steps you can take to ensure you have the best chance of presenting your child's claim after an accident with a negligent driver.
If you are on the scene, you'll want to document the following information from our accident checklist. If they were riding with another driver, you will want to get as much of this information as you can from that driver:
Get the name, phone number and insurance company of all involved drivers.
Document the color, make and model of all involved vehicles.
Take note of the specific location of the accident.
Take a picture or draw a diagram of the scene.
Get the name of any police officers on the scene.
Get the name and number of any passengers or witnesses.
Notify your insurance company.
Contact a personal injury attorney who can help you with accident-related injuries.
Additionally, if your child has been injured in an accident, it's crucial that you get them seen by a doctor and evaluated right away. Your child may not realize right away that they have been hurt, and if they are very young, they may not be able to tell you in words how they are feeling. If they start to experience pain or discomfort later or you suspect they could have been seriously injured, you should take your child to a doctor.
Also, you want to be able to prove that your child is receiving the best care possible, which means following their doctor's orders to the letter. At some point, it's also a good idea to check their medical records and ensure all the details of the accident are recorded correctly.
Accidents can be scary enough as an adult, but for our children, they can create a lot of fear and psychological stress. Your child may need to see a psychologist to deal with their anxiety about being in a car following their accident.
Get the Help You Need to Advocate for Your Child
At McCoy & Sparks, we understand that as their parent, you want to do everything in your power to help your child recover from their injuries. Nothing is more terrifying than learning that your child has been injured. Navigating the law when a minor is involved can be a stressful situation, especially when it's your own child. You don't have to do it alone.
We are here to guide you through the process and get your child the help they need to move forward after their car accident. We'll always take their needs and your wishes into account when working with you to get the best possible outcome for your child.
You don't have to do this alone. Let us help you help your child. Call McCoy & Sparks at (844) 4KY-WINS, or contact us for a free case consultation today.
Trust McCoy & Sparks—Premier Personal Injury Attorneys in Nelson County
Recognized as Nelson County's best law firm for over a decade and counting, McCoy & Sparks works to help people in trouble, representing thousands of clients in Central Kentucky with a focus on providing premium service and delivering superior results.
Regardless of the type of case, our goal is to develop a strategy that best serves your personal needs, then draws upon our courtroom skills to help you reach the best possible result. We start by getting to know you. Next, we will explain all your options, giving you the pros and cons of each choice so that you will be empowered to make informed decisions.
You owe us nothing unless we recover compensation for you. Make the right call to (844) 4KY-WINS for a risk-free consultation with one of our attorneys today.