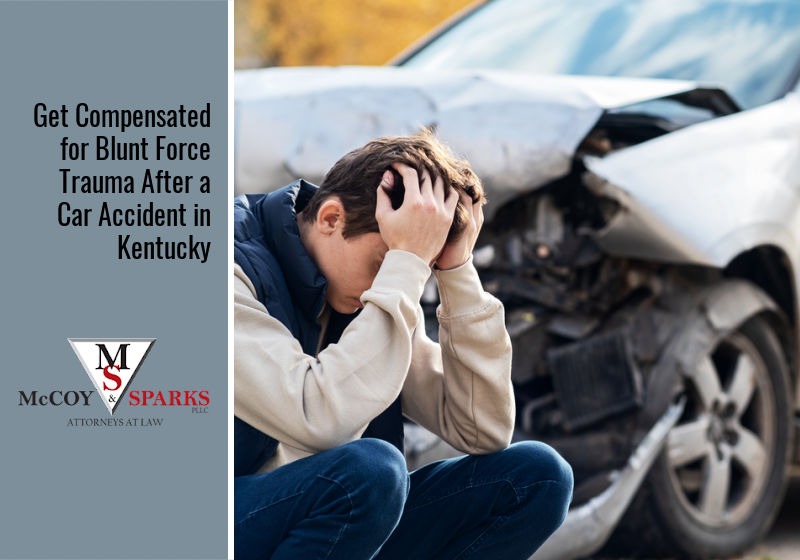 What you'll learn from this article:
Certain types of accidents are likely to involve severe blunt-force injuries.
After a severe car accident, you could have blunt force trauma injuries with months of recovery time and expensive medical bills.
You can work with a Kentucky car accident lawyer to seek compensation for a wide variety of injuries and losses due to your accident.
Here in Kentucky and across the nation, blunt force trauma is the leading cause of death in motor vehicle accidents. If you survive a horrific auto crash, you could have severe blunt force injuries like a head injury, back injury, or crushing damage to your ribcage.
In this article, we'll look at the types of blunt force trauma you're most likely to experience in a car accident. We'll also provide helpful information about seeking compensation for your medical bills, lost wages, and emotional suffering from the crash.
What is Blunt Force Trauma?
The official blunt force trauma definition from the Merck Medical Manual is an injury involving a forceful impact including a blow, kick, fall, blast, strike, or motor vehicle crash. Blunt impact injuries should always be treated as emergencies that need urgent medical care.
A damaging blunt force injury can happen anywhere on the body during the chaos of an auto crash. Among the most serious blunt force injuries are blunt cardiac injuries, which stop the heart from beating normally, and blunt force trauma to the head, which can cause loss of organ function and brain damage. A neck or back injury from blunt force trauma can also be extremely painful and debilitating.
Some people suffer deep internal injuries from the harsh physical forces of car accidents. In an instant, you can be crushed by a moving object or even your own airbags. Although the signs of internal injuries aren't obvious to the untrained eye, a trained medical professional can perform an examination and testing to determine the full extent of your injuries.
What Kinds of Auto Accidents Cause Blunt Force Trauma?
Any crash has a risk of injury, but the more severe the crash, the more likely it will result in blunt force trauma. Similarly, the higher the speed in a crash, the higher the chances of blunt force injuries, according to a long-term study published by the National Institutes of Health.
Vehicle crashes with side impacts are strongly associated with blunt-force injuries. As another vehicle crashes into your vehicle from the side, the enormous force of the crash is transferred directly into your body.
The National Highway Traffic Safety Administration (NHTSA) has found that the risk of severe blunt force injury from a side impact rises when there is a large height differential. For example, when a semi hits a small passenger car, the person in the car is very likely to suffer blunt-force trauma.
Can an Injured Person Seek Compensation for Trauma Injuries?
You have a right to seek compensation for blunt force trauma injuries and other types of trauma injuries from an auto accident in Kentucky. Medical bills, lost wages, and other economic costs will likely form the basis of your case. Your emotional damage, including your pain and suffering, could also factor into the calculation of your total case value.
Most auto injury cases are handled through car accident settlements, with insurance companies paying the largest share of the damages. There may be plenty of auto insurance coverage to address your mountain of costs from the crash.
Kentucky allocates fault by comparing the levels of responsibility of everyone involved in a car accident under the pure comparative negligence rule. You are permitted to seek compensation based on your level of fault. If you are found to be partially at fault, your compensation would simply be reduced proportionally.
While Kentucky is a no-fault car insurance state, this doesn't mean no one will be held responsible for your accident. What this means is that your insurance would be expected to kick in first, before other insurance, to help cover your damages. Compensation above and beyond this amount can be pursued from the responsible party and their insurance company and you may have an excellent chance at high-value compensation.
Recovering From Blunt Force Trauma? Turn to McCoy & Sparks in Central Kentucky
After suffering blunt force trauma injuries, please reach out to the dedicated team at McCoy & Sparks. We're one of Central Kentucky's best and most experienced law firms for over a decade and counting.
We always focus on providing premium service and delivering superior results for our injured clients. We start by getting to know you. Next, we will explain all of your options, giving you the pros and cons of each choice so that you will be empowered to make informed decisions. You owe us nothing unless we recover compensation for you.
Call 1-844-4KY-WINS and request a risk-free consultation about seeking compensation for your blunt force trauma injuries.