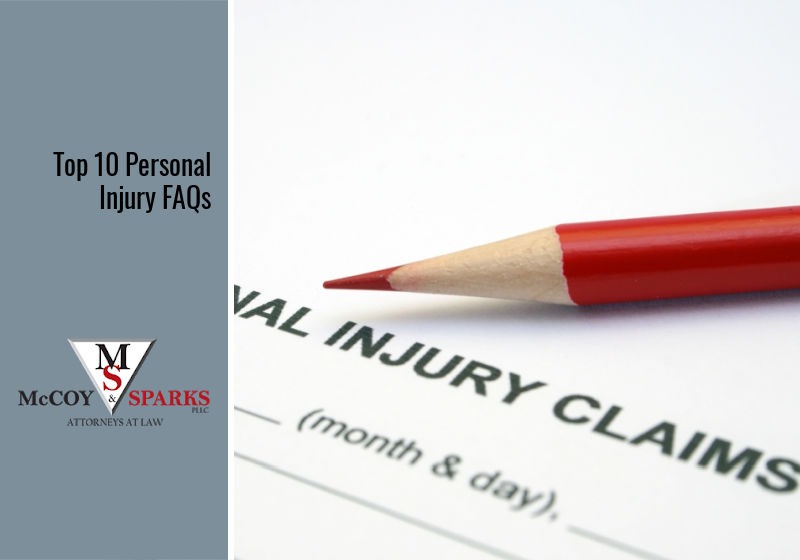 If you or a loved one has been injured in an accident caused by the negligence of another person, you may be overwhelmed with questions about where to turn and what to do next. Who is responsible for your medical expenses? What about lost wages due to your injury? Is there any hope of being compensated for the emotional and physical pain you've endured?
If you've been injured in a Kentucky accident, we've got answers to your most frequently asked questions.
Kentucky is a No-Fault State. What Does that Mean?
This means that, in Kentucky, no matter who is liable for an auto accident, the injured person must look first to their own insurance company for certain losses, including the first $10,000 of medical care. Kentucky law requires every driver to carry Personal Injury Protection (PIP), which will pay up to $10,000 in medical bills and lost wages. Only those who opt-out with a special form do not have PIP coverage.
Insurance companies offer the option of purchasing PIP coverage above the mandatory $10,000, so remember to check your policy.
But with today's medical costs, $10,000 may be used in the ER visit following the accident. What then? Generally speaking, recovery beyond the PIP coverage depends on a finding that someone else is at fault for causing your injury or loss. This is where it helps to have an experienced attorney with local knowledge – aka McCoy & Sparks!
What Types of Damages Can I Pursue?
Kentucky allows victims to seek both economic and non-economic damages. This means that you may seek compensation for financial losses as well as for the pain and suffering you've endured.
Some of the standard damages recoverable are:
Past and future medical expenses related to the accident
Lost wages and future lost wages
Disfigurement and disabilities, including scars
Emotional trauma and distress
Physical pain and suffering
Property damage
Specific cases also may open up different avenues for compensation. Having an attorney look at your case will help you better understand the types of damages you can pursue.
What Qualifies as a Wrongful Death?
If your loved one is killed in an accident in which another person or party is at fault, you and your family deserve justice and compensation.
Wrongful deaths can occur in many types of accidents, such as:
Car accidents
Truck accidents
DUI accidents
Motorcycle accidents
Bicycle accidents
Pedestrian accidents
ATV accidents
Boating accidents
Slip and fall accidents
Dog bite injuries
Medical malpractice
Defective products
In Kentucky, the personal representative of the deceased's estate may file a wrongful death suit. This person is typically named by the District Court Judge in the County where the decedent lived. It is usually given to the person closest in kinship, but that may be altered in the decedent has a Will that names an Executor.
Wrongful death suits allow families to recover funds for funeral and burial expenses, any medical bills from the accident, loss of income and financial support, pain and suffering, loss of companionship and guidance for children who have lost parents, loss of consortium for spouses who have lost partners, and even punitive damages which seek to punish the wrongdoer.
What If I Shared Fault in my Accident?
Sometimes, both parties involved in an accident may share in the fault. Kentucky's negligence system is what is known as pure comparative negligence. This means that individuals can share in the liability and still recover damages. Damages are simply reduced by the percentage of fault that you are assigned.
As an example, if you were awarded damages of $10,000 for an accident but were found to be 20% at fault, then you would receive 80% of those damages, or $8,000.
Are there Different Deadlines for Filing a Claim Depending on the Type of Claim?
Yes. While generally the statute of limitations in Kentucky for personal injury is one year from the injury, there are many exceptions to this rule. The most common exception is in the case of injuries arising from Auto Accidents. Under Kentucky's Motor Vehicle Reparations Act, the statute of limitations for injuries caused by a car wreck is two years from the date of the driver's last PIP payment.
Although only applicable to a small percentage of claims, one type of claim requires that notice be given as early as within ninety (90) days of the date of an injury.
Minors and persons under certain disabilities benefit from the rule that the statute of limitation is tolled until the minor reaches eighteen (18) or the disability ends.
Sometimes, the statute of limitation is extended because the injury is not initially discovered. When the "discovery rule" applies, you may have one year from that date, even if the negligent act was much earlier.
Determining the controlling statute of limitations can be complicated and dependent on numerous factors. If you miss the deadline, your right to any recovery may be lost. It is important to have your case reviewed as early as possible by an experienced and trusted attorney.
Do I Need to Collect Evidence After an Accident?
The more evidence you are able to collect and maintain after an accident, the better!
Evidence may be in the form of:
Photographs or video of the accident scene
Photographs or video of the damage
Photographs or video of your injuries
Medical bills and records
Police reports
Witness statements
Damaged items from the accident, such as clothing or a bicycle
Clothing and footwear you wore when the accident occurred
Preserving these items and keeping careful track of them after an accident can make a huge difference in your case.
Attorneys will work with you to gather important documents and information, but some evidence, such as photographs from the scene and clothing, cannot be found or replicated afterwards. Because of this, always remember to take photographs of the scene, any damage, and any visible injuries.
Additionally, avoid posting on social media after an accident; social media posts about or after the accident, even if only shared on your private page, can be used against you by insurance companies and defense attorneys if your case were to go to trial.
What Do I Do if I was in a Hit and Run?
Because of Kentucky's no-fault insurance status, you can still recover PIP benefits after an accident in which the at-fault individual fled the scene, whether it was an auto, pedestrian, bicycle, or motorcycle accident.
Your ability to recover beyond the basic PIP coverage depends on many factors. Consulting with an attorney in these instances is recommended.
What if I'm Hurt in a Public Place, Like a Grocery Store?
If you are hurt on someone else's premises or on public property because of conditions that were dangerous to you, you can file a premises liability suit.
Business owners and property managers owe a duty of care to those who frequent their premises, and if they meet certain criteria, they can be found at fault for your slip and fall injury.
Kentucky's Pure Comparative Negligence would also allow you to seek out compensation even if you were partially to blame for your accident.
Do I Have to Go to Court to be Compensated?
No, but it may happen. Even if you have to file a lawsuit, most personal injury cases never make it to trial, and are instead settled outside of court. Most are actually settled before a suit is filed.
It is estimated that more than 95% of personal injury cases end up being settled outside of court.
Do I Need a Personal Injury Attorney?
If you want to maximize the settlement then the answer is yes. Ultimately, an insurance carrier pays a claim in order to avoid a legal judgement against their insured. If you don't have an attorney representing you, the insurance company will have less reason to believe that you can effectively take their insured to Court to enforce to pay what is owed. They will also likely assume that you do not know that value of the claim since most people aren't experienced at understanding how juries typically compensate injuries.
Additionally, the Insurance Research Council conducted a study that found individuals injured in auto accidents may earn up to 3.5 times more in compensation when represented by a lawyer as opposed to those who represent themselves.
Trust McCoy & Sparks—Premier Personal Injury Attorneys in Central Kentucky
Recognized as one of Central Kentucky's best law firm for over a decade and counting, McCoy & Sparks works to help people in trouble, representing thousands of clients in Central Kentucky with a focus on providing premium service and delivering superior results.
Regardless of the type of case, our goal is to develop a strategy that best serves your personal needs, then draws upon our courtroom skills to help you reach the best possible result. We start by getting to know you. Next, we will explain all your options, giving you the pros and cons of each choice so that you will be empowered to make informed decisions.
You owe us nothing unless we recover compensation for you. Make the right call to 844-4KY-WINS for a risk-free consultation with one of our attorneys today.