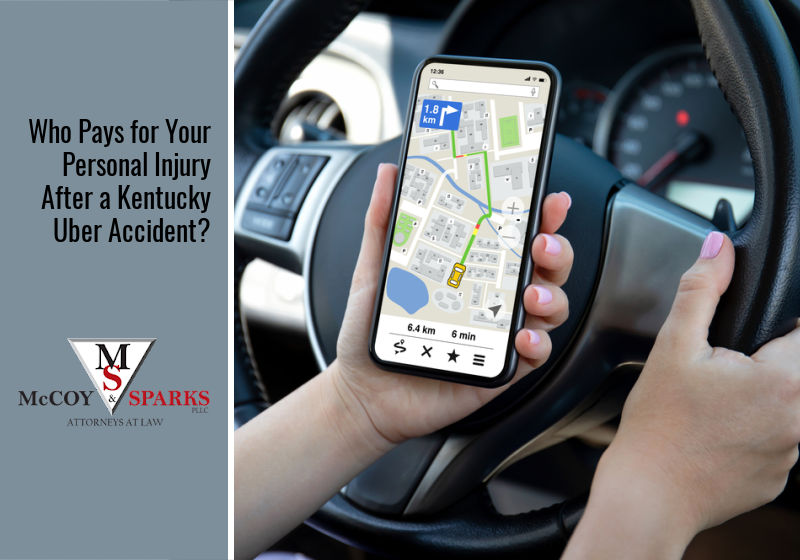 What you'll learn reading this article:
Uber accidents are more complicated than regular car accidents.
Rideshare companies often try to avoid taking responsibility but injured people still have options.
A Kentucky Uber accident lawyer can help you pursue the compensation you deserve under the law.
Ridesharing is one of the best ways to take short trips on Kentucky's roads. Uber is the nation's most popular service, accounting for almost 75% of all ridesharing trips. Of course, that also means Uber is involved in the most ridesharing accidents.
Uber isn't as convenient when you're in a Kentucky car accident! Having a rideshare driver and company involved makes your legal situation much more challenging to handle. Plus, your accident could involve many other parties like additional drivers, a pedestrian, a trucking company, a nearby business, a government agency, and/or multiple insurance carriers.
Who will take responsibility for your accident? Who pays for your medical bills and other costs? Here's what you need to know about rideshare accidents in Kentucky.
Uber's Rocky Legal Background
Uber has a long history of trying to avoid taking responsibility for traffic accidents. In Kentucky and elsewhere, Uber has attempted to sidestep legal claims by pushing responsibility onto its drivers.
For example, you might have seen the recent news story about an Uber passenger who sued for $63 million after being paralyzed in a car accident. He accused Uber of failing to properly screen or supervise the driver who caused his crash, but Uber blamed the driver.
Uber doesn't always win in court. The company recently lost a class-action lawsuit and ended up owing $8.4 million. This came on the heels of another lost lawsuit on behalf of 15,000 rideshare customers where Uber ultimately paid $20 million.
Insurance Coverage in Kentucky Uber Accidents
Kentucky is a no-fault insurance state, which generally means drivers file insurance claims with their own carriers regardless of who else is involved. However, "no fault" doesn't mean nobody can be held liable for your rideshare accident.
Passengers usually aren't responsible for traffic accidents. The fault likely lies with the rideshare driver, Uber, and/or another driver. This means you may have a strong claim for insurance coverage and personal injury compensation with a Kentucky car accident lawyer's help.
Potential for Up to $1 Million+ in Coverage
The key is to identify who holds the insurance policy that covers your situation. Uber, Lyft, and most other major rideshare companies consider their drivers independent contractors, but also require them to hold insurance coverage for injured people. Coverage up to $1 million could apply to your accident.
If the rideshare driver wasn't officially using the rideshare company's app at the time of your accident, you'll need to pursue the driver's personal auto insurance carrier. If they were using their rideshare app but had no passenger on board yet, there could be $50,000 per person coverage or $100,000 per accident, plus $25,000 for property damage.
If a ride was accepted on the app and the rideshare driver was either on the way to pick up a passenger or had a passenger, the $1 million policy coverage likely applies. In most cases, Uber or Lyft will also apply uninsured/underinsured driver coverage, although you might have to press them to fulfill their obligation to do so.
As you can see, pursuing a complex case like this takes significant background knowledge and expertise. Your next step should be to contact an experienced Kentucky car accident lawyer. The team at McCoy & Sparks is here to fight for what you deserve.
Trust McCoy & Sparks – Premier Personal Injury Attorneys in Central Kentucky
Recognized as one of Central Kentucky's best law firms for over a decade and counting, McCoy & Sparks works to help people in trouble, representing thousands of clients in Central Kentucky with a focus on providing premium service and delivering superior results.
Regardless of the type of case, our goal is to develop a strategy that best serves your personal needs, then draw upon our courtroom skills to help you reach the best possible result. We start by getting to know you. Next, we will explain all of your options, giving you the pros and cons of each choice so that you will be empowered to make informed decisions. You owe us nothing unless we recover compensation for you. Make the right call to 1-844-4KY-WINS for a risk-free consultation with one of our attorneys today.